EXACTA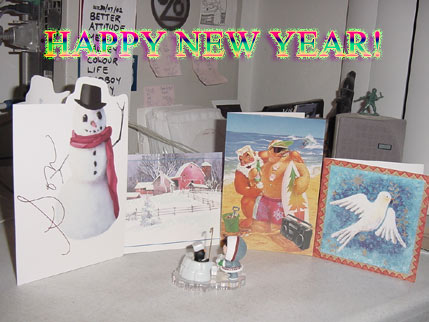 12.31.02 4:30 AM

RUBBISH! RUBB-ISH! NO! YEAH! OKAY, I'LL CHAT LATER, CIAO! CIAO!!!

Pic O' the Day: In the front is an annual ornament my mom buys for me, we have every one in the series except one. The series started the year I was born (1980), and we're only missing 1981. Fortunately, since she doesn't read this, I can say that my Christmas goal for 2003 is to buy my mom the one she doesn't have. It'll set me back a good $200, but it's one of the few traditions we really have and I'd like to complete the set before it gets any higher. Behind that are the four cards I received, L-R: Mom, Mom & Ron, Aunt Callie, and Jen!! Go Jen Go!! I feel semi-adult now that I'm receiving my own cards from people who aren't my relatives, even if it's just one. It's a start, I'm tellin' ya. Even the hype about Jesus had to start with just one guy going "seriously dude, this guy knows what he's talking about. You free Sunday?"

Year (?) News: This year blew. Seriously, it really really sucked hard. My grandma died, I had to move in here, I'm poor, a friend became a flake, good shows were cancelled, shitty bands got even more popular, about 115 minutes of cinema was actually of quality, my socks got holes in them at record speeds, kiddiefucker David Westerfield took up too much of my Price Is Right time, my computer got a trojan, my monitor went all batty, and worst of all, Bush II is still the head honcho.

There were some upsides to it all, however. I've begun to spend more time with Brian, Mike, and Thanh (in alphabetical order, of course...can't have them getting big heads over who's listed first), three fun guys who I'm glad to call my friends, and of course, it's been another quality year of friendship with my main man Andrew. We are each better off for having good friends, I know that for sure. Despite all the crap that's gone down this year, it's probably helped me become tougher and more focused on what I need to do and what I want to do to achieve my ultimate goal, personal happiness. It's a long path, so I need to remind myself frequently to take it one task at a time so as not to get overwhelmed with the concept of a large plan.

Okay, enough of that Stuart Smalley personal affirmation shit, it'll be there when I want it, that's why I type it out instead of writing it on tortillas.

Now, slipping in under the deadline by about 21 hours, here it is (yelled like Dom Joly on "Trigger Happy TV")...

THE EXACTA DOZEN: TWELVE ALBUMS THAT I FOUND ENJOYABLE IN 2002

01. Sparta - Wiretap Scars
02. Red Animal War - Black Phantom Crusades
03. Pearl Jam - Riot Act
04. Queens Of The Stone Age - Songs For The Deaf
05. Andrew W.K. - I Get Wet
06. Mars Volta - Tremulant
07. The Roots - Phrenology
08. Pretty Girls Make Graves - Good Health
09. Rocket From The Crypt - Live From Camp X-Ray
10. Your Enemies Friends - The Wiretap EP
11. Foo Fighters - One By One
12. Sleater-Kinney - One Beat

Let it be said first off, that I found 2002 to be seriously lacking in solid albums. I almost pared this down to a top 10, or a top 8, until I was reminded of a couple other discs at the last minute which helped fill out the group. I've noticed a strange anomaly with what I like versus what others like. Take some of the most beloved movies of all time: Titanic, Star Wars, ET...I really don't like any of those. Music? Beatles, Stones, Zeppelin, Elvis...nah. I'll pass. Some movies and bands just under that top 1% echelon are my favorites, however when it comes to the ultimate in almost any form of art, it doesn't really click for me. Why the hell am I telling you this? Because 2002 was, almost unanimously, a banner year for quality music in the eyes of most people whose tastes I trust and respect. Granted, that's about 6 people on this planet, but they serve as good benchmarks. I, on the other hand, wasn't swept up by the Flaming Lips' effort, nor was I particularly wowed by albums by Interpol, Spoon, or Wilco, all bands who released universally applauded discs. Not saying they weren't good, but they just didn't have what I was looking for in 2002. Perhaps I shouldn't have been 'looking' for anything, instead I should have just let the music come to me, but I definitely gave the records by the above-mentioned bands numerous spins, with trips to the Recycle Bin the result. I mean, back to the record store, to retu- oh, who am I kidding, when my dad's on Morpheus downloading Sting tracks you know it's gotten retardedly mainstream and acceptable. So, yeah, definitely some winners this year (draw the line after #7 on my list for what I thought were 4/5 and 4.5/5 albums (no 5/5s this year) and what I thought were 3/5 albums), but compared to my take on last year's efforts (here, at the bottom), some things were definitely missing.

01. Sparta's "Wiretap Scars"
In the wake of At The Drive-In, it was only fitting that the first full-length from the non-afro creative side came out with a powerhouse of a disc ready to prove that ATDI was more than just a crazy frontman and his equally psychotic guitar sidekick. Studio demos from Sparta were around in the fall of '01, making the wait for 'Wiretap' all the more excruciating. Add to that a tour in late '01 and another in early '02, and it was clear the band was on the right track to creating an A-bomb of an album. It's difficult for a band to take a pop mindset and turn it on its end to make a heavy, crunching melody, but tracks like "Air" and "Cut Your Ribbon" do just that, and Sparta did it better than any other band in 2002. The attack of three guitars and a keyboard add space to the more melodic numbers, with "Sans Cosm" being an upbeat, driving rocker that still maintains a large, polished feeling held up by the arpeggiating (is that a word? it is now) notes thrown back and forth between right and left channels. "Sans Cosm" also has my favorite lyric of the year :

Someday low notes fade away and go
True and stale, true and stale
Somewhere words don't crater in at all

My album of the year has to have an amazing closing song, and this year's is no exception. "Assemble The Empire" was one of the last songs written for the disc, proving this band was on their game from their first meetings until the last day of recording. The final moments of the disc, with vocalist Jim Ward screaming, pleading, "Slow down," strike heavy and leave a stunning impact. Not bad for a debut album. While it's anyone's guess to say if the afro bros. in The Mars Volta are looking to best their former bandmates, they have a hell of a hill to climb if they want to get close.

02. Red Animal War's "Black Phantom Crusades"
I went from hearing nothing about this album to preordering it in about 5 minutes in September, thanks to the fine folks at deepelm.com. I sung the praises of this group last year, as they made my #1 slot then with a brilliant debut of their own with "Breaking In An Angel." If they ever toured West of Texas (3 years as a band, they've played in EUROPE for christ's sake, yet they can't take the 10 West to the 8 or the 40 and hit up California), I'd have gladly gone up and down the Golden State coast for a handful of shows, but perhaps it's a good thing, as I've had more motivation to play the hell out of their first two discs. 'BPC' shows some definite growth from 'BIAA' in the area of percussion, bass, and lyrics. The prerequisite 9/11 theme is approached here better than on any other song in 2002 (screw Bruce Springsteen, "The Rising" stunk), with the track "When I Get The Feelin' (Back In My Hands):

if there is nothing to fear
then fear itself would you yield
they were not supposed to be here
i still love laying in fields
and staring up to get real
it makes the world just seem so clear

and all the words that they say
don't let 'em turn you to clay
yeah i know it's not fair
i'm waking up to the sound
of new york coming down
i never knew we could be so scared

did the timing
seem like lightning
i'm afraid it did
she's got new shoes
he wears an old hat
what's it matter
what's it matter

Toby Keith they're not, but who is! Hah!

Red Animal War have a sound that I've heard described as "angular" by people who know about this stuff more than I do. I'll have to go with that, and say that they do the "angular" sound better than any other band playing. Unfortunately, it seems like nobody knows about these guys after two superb records, and they may be the kind of band that, four years after they've broken up, become the blueprint for a new direction of inventive music by people who finally see the brilliance of these Texans.

03. Pearl Jam's "Riot Act"
Definitely not their best disc. Better than "Binaural," hell yes. They've lost a step or two over the last 3 years, however the evolution of the songwriting process within the band has produced some amazing tracks, equal to anything they've written in the 1990s. The downside to this change is a polarized reaction to the songs on the disc. Tracks like "Thumbing My Way" and "You Are" are, unquestionably, within the bottom 10 Pearl Jam songs ever written. On the flip side, "helphelp" and "All Or None," particularly the latter, immediately found their way into my personal "PJ Best Of" playlist. "helphelp" is reminiscent of "Amnesiac"/"Kid A"-style Radiohead numbers, complete with surging guitars and keyboards, three layers of vocals in some parts, a "Rats"-esque meltdown in the last 60 seconds, and a bouncing bass by the song's author, Jeff Ament, who has written my favorite Pearl Jam song on the last three albums (helphelp/Sleight Of Hand/Push Me, Pull Me). Perhaps it's my taste for the more experimental Pearl Jam sound, but these songs are all outcasts compared to the rest of their catalog, are dismissed by the more short-sighted fans who like their rock music straightforward and linear, and scare the band enough to where they're rarely played live, if at all. "Green Disease" is a rocker the Police or Neil Finn could have collaborated to write, "Get Right" is the best garage rocker in a year of garage rock bands, "Save You" is another in the "Hail, Hail"/"Spin The Black Circle"/"Brain Of J."/"Gods' Dice" frame, and could possibly be the best of that bunch. Time will definitely tell on that one. "Love Boat Captain," the band's ode to those lost in the Roskilde tragedy, is appropriate, respectful, extremely powerful, and should stand as the band's trademark song for the second half of their careers. The trophy track for this disc, however, is "All Or None." Mike McCready's intro riff should be illegal, it's just that beautiful. Lyrics fit, aren't anything amazing, but fit the sober tone of the disc. Boom's feathered piano isn't too obtrusive (that goes for his role on the rest of the songs as well), Matt Cameron's playing as delicate as he humanly can, which is still a pinch rough for a song of this nature, but it's a minor complaint that can be overlooked quite easily. The song winds down with McCready getting silly with a hot riff leading to a fadeout, definitely a theme throughout the album. Their best closer in six years.

Okay, that's 3 for ya, since these are contingent on time I'll try to get the next three batches up quickly. These three were the albums I wanted to talk the most about, the rest won't be nearly as long, and the final 6 albums will most likely be the length of just one of the reviews above, as I just didn't feel too terribly passionate about those.

-b!

Quote Of The Day:
(The English language version of Auld Lang Syne, not the crazy Scottish version where the words don't make any sense. And yeah, I almost ALWAYS put in a personal quote here, but I haven't been out much and it's December 31st.)

Should old acquaintances be forgotten,
And never brought to mind?
Should old acquaintances be forgotten,
And days of long ago!

For old long ago, my dear
For old long ago,
We will take a cup of kindness yet
For old long ago.

We two have run about the hillsides
And pulled the daisies fine,
But we have wandered many a weary foot
For old long ago.

We two have paddled in the stream
From noon until dinner time,
But seas between us broad have roared
Since old long ago.

And there is a hand, my trusty friend,
And give us a hand of yours,
And we will take a goodwill draught
For old long ago!

And surely you will pay for your pint,
And surely I will pay for mine!
And we will take a cup of kindness yet
For old long ago!